Massive rallies against the new anti-popular state budget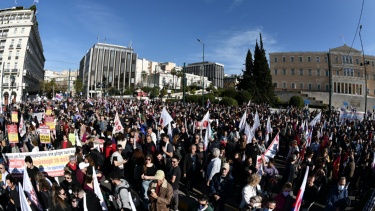 Thousands of workers, students, retirees in Athens and dozens of other cities in Greece protested under the slogan "No to the anti-popular budget - Struggle for the contemporary needs of the people", expressing their opposition to the anti-popular state budget of the New Democracy government, which smashes even further workers'-people's rights in social security, wages, education and health.
Following the call of PAME, dozens of trade unions and other mass organizations gathered in Propylaea (at Panepistimiou Street) and then marched to the parliament where the state budget was being voted on.
During the rallies, Greek workers also expressed their solidarity with their French colleagues and the ongoing major strikes in France.
The rally was also attended by Dimitris Koutsoumpas, General Secretary of the CC of the KKE who made the following statement at the media: "While we are struggling in the parliament against a new anti-popular state budget, we are also struggling in the streets of Athens and all over Greece. Τhis struggle must be continued in the months ahead because a gloomy 2020 is expected on all issues. "
19.12.2019